Now teaching yoga at Blue Sky Yoga!
I teach Mindful Movement on Wednesday evenings at 4:30pm. This class is perfect for all experience levels, including those new to yoga and advanced practitioners who would like to refine their practice. Principles of alignment are emphasized and modifications are offered. Connect your breath with movement in a slow flow and clear your mind. You will leave class feeling refreshed, balanced, and calm.
Check the Blue Sky schedule and sign up for classes online!
Private Yoga Sessions Available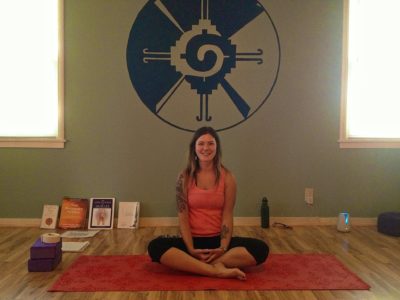 I have practiced yoga for over 20 years and continue to experience my practice as a source of inspiration that motivates me to share it with others. Vitality, clarity, balance, strength, relaxation, and lightness of being are just a few of the wonderful effects of a consistent yoga practice. I explore the poses as a journey rather than a destination, inviting students to do the same by turning inward and listening to their bodies as their guides.
I completed my yoga training (RYT-200) at St. Louis Yoga Source in 2010. I have taught group and individual classes in Hatha, beginner's Ashtanga, and Vinyasa yoga in Saint Louis, Columbus, Northern California, and Denver since my certification.
Yoga and massage are a wonderful pairing that increases strength and flexibility, improves range of motion, counteracts repetitive motion and holding patterns, and encourages relaxation and letting go of stress.
Consider adding a yoga session to your in-home massage or adding a group class to your massage party.
Inquire about private yoga instruction